Good News | Jiyisi was successfully selected into the "Zijinshan Talent Plan High level Innovation and Entrepreneurship Talent Project"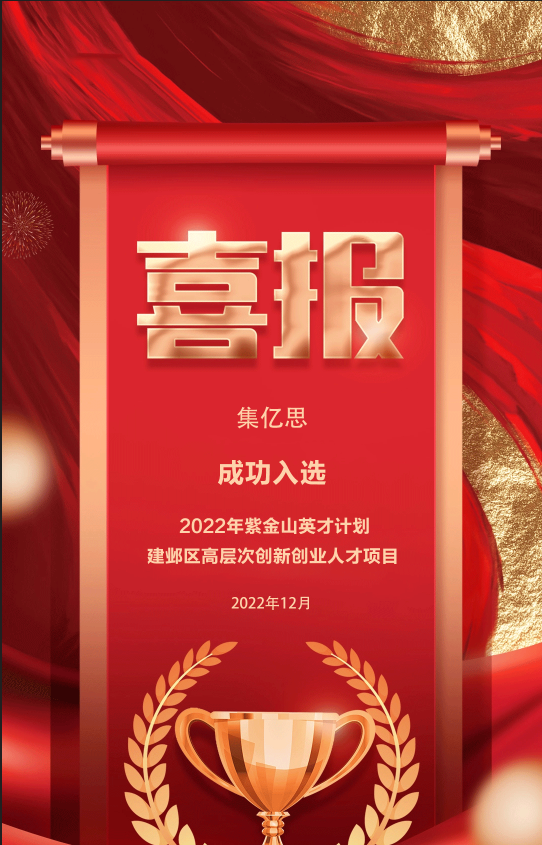 Selected into the "Zijinshan Talent Plan"
Recently, the application results of the 2022 Zijinshan Talent Plan Jianye District High level Innovation and Entrepreneurship Talent Project were officially released, and Jiyisi Intelligent Technology (Nanjing) Co., Ltd. successfully passed the Jianye District level review of the "Zijinshan Talent Plan High level Innovation and Entrepreneurship Talent Project". Affected by the epidemic situation, this year's Zijinshan Talent Plan has more application projects and fewer quotas, and the pass rate has dropped significantly compared with previous years. After more than three months of multiple rounds of evaluation, Jiyisi's technical research strength and product business prospects have won wide praise from experts.

"Zijinshan Talent Plan" project
About Ji Yisi

Jiyisi is a Sino foreign joint venture founded by the "985" and "211" projects, the team of Southeast University, a double first-class century famous university, and the well-known European R&D enterprise cmc, which specializes in the R&D, production and sales of software and hardware systems for predictive maintenance of industrial equipment. The company's core technology is to help customers accurately predict the future health trend of equipment through real-time online monitoring and control of industrial equipment "blood" - lubricating oil. The company's core products are oil electrochemical sensors and capillary deep ultra precision filtration systems, which are widely used in chemical industry, steel, building materials, mining, paper making, thermal power, wind power, hydropower, power transmission and distribution networks, high-speed rail, ships and other fields. Since its establishment, Jiyisi has always adhered to the core value concept that science and technology are the first productive force, and innovation is the first driving force for development. It has continued to invest in research and development and innovation, and has continued to tackle research and development difficulties. The company's R&D team has a profound academic accumulation in predictive maintenance, MEMS, artificial intelligence, and machine learning related fields. Based on the core technology of big data intelligent analysis and development of advanced algorithm models, the company continues to optimize models and algorithms in combination with AI neural network and machine learning, and finally accurately analyzes and forecasts the current situation and future development trend of oil products and associated equipment.

In terms of technological innovation, the company has established in-depth cooperation with many domestic and foreign first-class universities and research institutes, layout cutting-edge research in multiple fields and directions, quickly get through the application of predictive maintenance related systems in various industrial scenarios, and empower the industry. In the future, the company will be committed to the research, development and innovation of original technologies for a long time, and will continue to enhance the core capabilities of the industry-leading full stack predictive maintenance system, covering key technology fields such as device perceptual intelligence, decision-making intelligence, intelligent content generation and intelligent content enhancement, as well as chips, MEMS sensors and advanced algorithms developed based on cutting-edge technologies such as artificial intelligence, big data mining, machine learning, etc Key capabilities including models.